Profile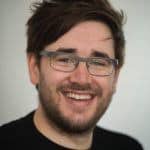 Stuart Higgins
Curriculum Vitae
Education:

School in Somerset, 4-years uni at Imperial College London (third year studying in Germany)

Qualifications:

A-level - physics, chemistry, biology, maths. AS-level - further maths, geography, art, general studies. Undergraduate: MSci Physics with Year In Europe. Postgraduate: PhD in Experimental Solid State Physics.

Work History:

Part-time jobs growing up: office cleaner, warehouse assistant, packing envelopes for a charity, making websites. At uni: part-time bartender, telephone caller for the uni, subwarden in a halls of residence. Full-time scientist jobs: worked at the University of Cambridge for a year and a bit, now working full-time in London.

Current Job:

Official title: "Research Associate in Innovative Materials"

Employer:

My connections to STFC science and technology:

Our research group occasionally carries out experiments at the Diamond Light Source.
Favourite thing to do in my job: Learning something new, which I didn't realise was a thing until that moment.

About Me

I make new materials for different kinds of biology problems. I'm originally from Somerset and now live in London.

Read more

I grew up in a small town in Somerset (lots of fields, cows, sheep, etc). I enjoyed science lessons at school and in particular liked physics. During my A-levels I was keen to go to university and live in a big city and meet people from all over the world.

For my undergraduate degree I studied Physics with a Year Abroad at Imperial College London.

I loved the experience so stayed on to study for a PhD at Imperial, looking at how to make bendy electronics.

After that I worked at the University of Cambridge for a while, also on bendy electronics, then decided I wanted to do something different. I moved back to Imperial, and currently work in a group that engineers new ways to identify diseases and help the body heal itself.

In my spare time, I like making podcasts🎙.

My Work

I make tiny beds of nails, which we put cells on, and watch what they do.

Read more

Cells can feel what's going on around them, and then change how they behave. They can change shape, they can change what type of cell they are, they can change which bits of their genetic code are turned on and off.

We do this because: 1) it's super interesting – it helps us understand how life works, 2) if we understand it, then maybe we can control it to help us treat certain conditions or diseases.

In my job I make tiny, tiny, beds of nails. Each spike is a thousand times smaller than the width of a hair and super sharp. I then work with biologists (I have to get their help for this bit!) and we put stem cells on top of the spikes.

Stem cells are a special kind of multi-purpose cell that can change to become many other kinds of cell. Some scientists want to use them to help the body repair itself, by getting them to change into new cells the body needs.

By putting stem cells on different kinds of spikes we're trying to understand how the cell feels those spikes and then changes what's going on inside it. We've still got lots to learn, but hopefully we'll help increase science's general knowledge about this all works.

I'm also involved in loads of other projects too, such as making sensors to detect diseases.

My Typical Day

I get in super-early (and then leave early too). My day depends on what stage the project is at - at the moment I'm analysing lots of data and writing up my results

Read more

I work best when it's quiet around me, so I go to work stupidly-early, arriving about 06:30. Most people rock-up around 09:30 – 10:00 and then stay later. I just love having quiet time to think/work.

I might analyse some data (i.e. look at lots of graphs and try and understand what they show). Sometimes I write computer code that automatically measures the size of cells from microscope photos. Plus I design new spikes and experiments.

I help supervise students with their projects. They email me for help, and we have meetings to talk about their results and we try and think of solutions to science problems they have.

Our whole team meets together lots as well to share what each other is doing. Everyone does so many different things, so I'm always learning something new about biology or medicine (I like this part of the job the best).

I travel home around 16:30 to avoid rush-hour and then usually work for a few more hours at home.

I like the flexibility – there aren't many jobs where I'd be lucky enough to pick my own hours.

What I'd do with the prize money

I'd use it to do science outreach in supermarkets around the UK.

Read more

Last year I started a project called 'Science in the Supermarket'. We spent the weekend in a Tesco in Somerset running science activities for young kids and talking to their parents about how studying science can give you lots of job options in the future (not just becoming a scientist – there are loads of cool engineering/coding jobs out there too).

I'd use the £500 to run more of these events. The project deliberately goes to places where you wouldn't normally find scientists, and I'd love to go to other parts of the UK too. The scientists volunteer their time for free, so the main costs are transport (hiring a car to shift all the tables/display stuff is expensive), petrol, plus buying materials for the activities that get used up (last time were using air-dried clay to make brain models). This is what the money would get spent on.

My Interview

How would you describe yourself in 3 words?

Not. A. Clue.😅

What or who inspired you to follow your career?

I had enthusiastic science teachers who made the science interesting, plus encouraged me to take part in science competitions

What was your favourite subject at school?

I kind of liked everything (ok, not all the time, there were bits of some lessons, including science that were very boring). My favourite was probably physics.

What did you want to be after you left school?

In order: fire fighter, then airplane pilot, then environmental scientist, then just scientist.

Were you ever in trouble at school?

No, I was a massive teacher's pet. I got a bit bullied for it, but definitely worth it in the end.

If you weren't doing this job, what would you choose instead?

I love recording/playing with sound and music, so working in a recording studio would be incredible.

Who is your favourite singer or band?

It changes all the time. Last few artists I was listening to on my phone were: alt-J, Lizzo, Dirty Projectors, Fleetwood Mac.

What's your favourite food?

Probably hurt-your-mouth-it's-so-strong west country cheddar cheese 🧀.

What is the most fun thing you've done?

That's so hard to answer. I once went to a science conference in Austria, where they took us sledging down a mountain where you could get some proper speed up. That was a lot of fun.

If you had 3 wishes for yourself what would they be? - be honest!

If just for me: 1) have my own recording studio 🎛, 2) be amazing at playing instruments 🎹, 3) more guitars. Always more guitars. 🎸

Tell us a joke.

Three men walk into a bar. You'd have thought one of them would have seen it.
---
---
---