Profile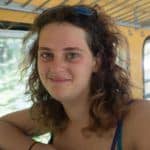 Hannah Dalgleish
Curriculum Vitae
Education:

Burford High School, Hawick High School, University of St Andrews, Western University (Ontario), University of Innsbruck, University of Padova, University of Belgrade, Liverpool John Moores University

Qualifications:

Bachelor of Science, Master of Science

Work History:

European Southern Observatory (Munich, Germany) - Intern in Science Communication and Journalism

Current Job:

Astronomy PhD student

Employer:

The Astrophysics Research Institute (ARI) at Liverpool John Moores University. The ARI is also home to the Liverpool Telescope, and the National Schools Observatory.

My connections to STFC science and technology:

I am working towards my PhD in the Astrophysics Research Institute, which is heavily supported by STFC funding.
Favourite thing to do in my job: Travelling and meeting people from all over the world.

About Me

Apart from studying astronomy, I love new experiences: especially learning about new cultures, exploring new countries and making new friends.

Read more

I live in a lovely cottage in the outskirts of Liverpool with my boyfriend. We try to grow our own vegetables and have a lot of fun listening to the cows mooing next door. When I'm not travelling or working I like having a go at pottery, climbing and hiking. I also enjoy writing, singing and swing dancing.

My Work

I look at how stars are moving in the Milky Way.

Read more

Throughout the Universe, astronomers have found tightly packed groups of stars held together by gravity, known as star clusters. Each cluster contains around hundreds of thousands of stars and there are about 150 of these clusters in the Milky Way. Star clusters are thought to have formed around 12 billion years ago, close to the age of the Universe!

We can learn a lot from studying star clusters. They can give us clues about how the galaxy formed and how stars evolve over billions of years. We can also have a better understanding of how much mass these clusters contain and if there are hiding black holes inside, or even, dark matter!

My Typical Day

Most of my days are spent on a computer, writing code to help me understand very large amounts of data.

Read more

I am currently looking at data taken by a telescope in Australia. So far, I have looked at around 50 different star clusters in the Milky Way. My job involves writing code and using special software to figure out if the stars in the clusters are moving towards or away from us. I can then use this information to calculate the mass of the cluster. Sometimes the clusters contain a lot more or a lot less mass than we expected. This is exciting for astronomers as this means that we are still lacking important knowledge about how the Universe works.

What I'd do with the prize money

Donate it to the Ada's Adventures in Science comic.

Read more

Ada's Adventures in Science is a comic featuring Ada, a girl who isn't afraid to ask questions about the world around her. Ada dreams of doing exciting science and making discoveries like her science heroes.

The comics show that anyone can do science; it doesn't matter where you're from, who you are, what your gender, ethnicity, or background is; if you can ask questions, you can do science.

So far comic books in English, German, Spanish and Welsh have been sent to schools in the USA, UK, Colombia, Austria, Netherlands, South Africa, Zambia and Nigeria. With the £500 prize money they will be able to print more than 1000 additional copies in either German, Welsh or Spanish.

My Interview

How would you describe yourself in 3 words?

Enthusiastic, friendly, and caring.

What's the best thing you've done in your career?

Organised astronomy camps across Europe (the International Astronomical Youth Camp)

What or who inspired you to follow your career?

Science fiction movies (Star Trek, Star Wars, Stargate, ...)

What was your favourite subject at school?

History

What did you want to be after you left school?

An astronaut

Were you ever in trouble at school?

Yes - I accidentally broke my friend's arm!

If you weren't doing this job, what would you choose instead?

Archeologist

Who is your favourite singer or band?

Amanda Palmer

What's your favourite food?

Chocolate peanut butter brownies

What is the most fun thing you've done?

Eating sausages and marshmallows cooked on lava!

If you had 3 wishes for yourself what would they be? - be honest!

To be better at saying 'no', to be better at coding, to be more confident in myself and my abilities

Tell us a joke.

What did the tie say to the hat? I'll just hang around and you go on ahead!
---
---
---