Students! Help us decide which scientists and engineers should take part in the next event, and you could win a £20 voucher. All you need to do is take 2 minutes now to judge these 12 sentences.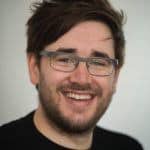 Thank you to everyone who sent in their ASK questions, and took part in the live CHATs too! There were so many great questions, and I had fun researching the ones I didn't know. My favourite questions made me think about why I am doing my research. It's so easy to get lost in the experiments, it was great to think about the bigger picture.
I also want to thank the other scientists in the Dubnium Zone: Hannah, Tori, Gill, Titus and Alessandro. It was great getting to meet them through the chats and see how our different science backgrounds give us different perspectives on the questions.
I'm looking forward to using the £500 prize money to bring scientists and science experiments to supermarkets around the UK, as part of the project Science in the Supermarket.
Scientists! If you'd like the chance to win funding for your own public engagement work, apply for the next I'm a Scientist, Get me out of here: imascientist.org.uk/scientist-apply